DEMO DERBY SIGNALS END OF THE 2019 INTER-STATE FAIR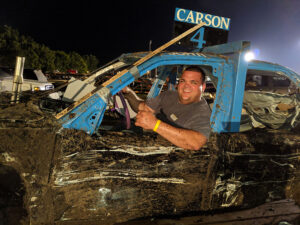 Coffeyville, Kan. (August 17, 2019) –  John Carson makes the trip from his home in Parsons, Kan. to Coffeyville five days a week, for work.
But this week, he came to town a sixth time, on Saturday, August 17, to run in the Inter-State Fair's Demo Derby.
Ad he left with a trophy and a check, for winning the Compact Bolt and Chain class.
Carson won the first heat in a class of 32 cars, then after a bit of work on his 1993 Chevy Lumina, came back to the main event to win it.
"We touched up a few things, then we were ready to go. We beat down the back end (of the car) with a hammer and filled it up with fluids. It was pretty much ready to go."
Carson began competing in demo derbies when he was sixteen years old. Then when kids came along for him and his wife Stephanie, he stopped. Now the older child, son Brayden, who is eight, enjoys it. "Now my boy is interested in it, so we do it together," Carson said. "He's loving it."
They have a routine. "He comes home, does his homework, we eat supper, and go to the shop." It'll be eight years before Brayden can drive in derbies, and when he does, his dad will be ready to let him. "I'll turn it over to him, and let him do it, and I'll be support staff."
Daughter Braylee, who is six years old, also got involved in the demo derby. She drove a Power Wheels car in the competition for the younger kids at the start of the show.
A Coffeyville man won the Mad Dog award at the Inter-State Fair Demo Derby.
Joshua Knisley was selected as the most aggressive driver in the Compact Bolt and Chain class.
"I went barbarian-ish, I guess," he laughed.
This is the first time for the 29-year-old to compete in a demo derby, and it's in part because of his uncle, Brian Knisley.
Knisley, a long-time derby driver, died of a heart attack in November of last year. Joshua and his cousin, Brian's son, built two cars for Knisley's Tribute Figure Eight Race, then decided to run them as demo cars.
"I came here to have a good time," Joshua said. He has a son, Traven, who is three years old, and a fiancée, Tanner Addington.
At the Inter-State Fair Demo Derby, Jordan McKinney won his first ever race.
The thirty year old, who lives in Arma, Kan., has competed off and on in demo derbies since he was sixteen.
His day in Coffeyville didn't start well, though. "When I got here this afternoon, nothing was going right," he said. The motor in his 1991 Crown Victoria wasn't running right, and the starter had to be replaced. "I didn't even think I'd be able to run my car."
But he did, and in the main race, it came down to the wire between his car, the number 44, and Ray Sotoro, the number 178 car.
 Sotoro was about to win, as he had made the last hit on McKinney's car, and neither car was moving.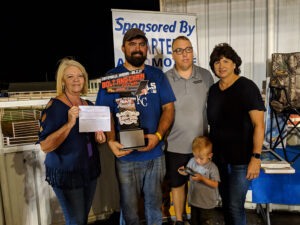 But there was more life in McKinney.
 "One of the last hits I made, I broke my throttle cable," McKinney said. "I broke it where it attaches to the gas pedal." The cable was still there, but it was off the pedal, and McKinney thought he was finished. "Then I looked, and the bolt was on the end of the throttle." So by working the throttle on the floor, he was still alive in the race. On top of that, the car has a manual transmission.
 "My hands were slightly full," he joked.
 McKinney was able to drive his car and make the last hit on Sotoro. "I got around him, somehow, and started hitting him to where he couldn't move."
 Winning his first race was indescribable for him. "I can't explain the feeling. It's awesome."
 McKinney has a six-year-old daughter, Rylee.
 Demo derby results follow.
 Carter Automotive Warehouse was sponsor of the demo derby.
For complete results from all fair activities, visit the website at www.FairandRodeo.com. 
Results, Demo Derby – August 17, 2019
Limited Weld Full Size
1. Michael Maxton #22
2. Buddy Schlatter #692
3. Mike Schierlman #335
4. Dillon Kepner #69 ER
5. Ian Smith #717
Limited Weld Compact
1. Charles Gilman #13
2. Chance Winters #26
3. Caleb Hentzen #12
4. Nick Moses #23
5. Levi Beachner #06
Mad dog winner: Charles Gilman
Full Size Bolt and Chain
1. Jordan McKinney #44
2. Ray Sotoro #178
3. Tyler Kizzerie 10T
4. Jason Horton #12
5. Dusty Spillman #70
Mad dog winner: Ray Sotoro
Compact Bolt and Chain
1. John Carson #4
2. Travis Neel #62
3. Timothy Snethen #23
4. Logan Anderson #1/2 2P
5. Keagan Daniels #11-13
Mad dog winner: Joshua Knisley #4
All results unofficial.