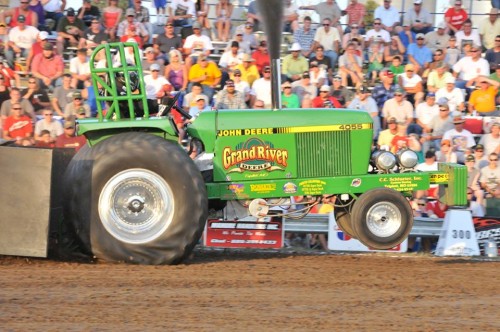 The 2017 Lucas Oil Tractor Pull has been cancelled due to a scheduling conflict.  A monster truck show by the Monster Truck Racing League will be held on Sunday, August 13 at 7:30 PM.  Click here for more information! 
Lucas Oil Pro Pulling League Tractor Pull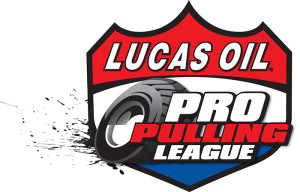 With an expanded National, Regional and Member state schedule, sponsor additions, and an internationally viewed cable sports television package, the Lucas Oil Pro Pulling League continues to gain momentum and strength. The Brownstown, Indiana-based sanctioning organization will conduct in excess of 240 truck and tractor pulling events across the U.S. and Canada features a roster in excess of 1,300 active members featuring the top teams in the sport.
"The Lucas Oil Pro Pulling League continues to establish a broad footprint in the marketplace, which is proving an exceptional value and opportunity for all involved," said PPL Director, John Mears. "Pullers are being rewarded with the largest per-event and year-end award monies, and product contingency programs," he continued. "Of equal importance, the venues where our events are held include some of the country's largest state fairs and stand alone events, which greatly benefit the exposure of sponsor products and services to a brand loyal base of consumers across the board, reinforced by the comprehensive television package."
In addition to its own point series, the Pro Pulling League's expansive series of events now include the revered Ohio State Tractor Pullers Association along with a partnership with the Illinois Tractor Pullers. On top of all that the Badger State Pullers Association, New York Tractor Pullers Association, Empire State Pullers, Shenandoah Valley Tractor Pullers, East Coast Pullers, and the Southern Pullers Association are also flying Lucas colors.
If high-power, mudslinging, flame throwing competition gets your motor running, then we've got your fix. The Lucas Oil Pro Pulling League tours the country, showcasing the wildest vehicles and the craziest drivers on the planet. From four engine 10000 horsepower tractors to smoke blowing semi-trucks that would make the Bandit call the police!
2016 Lucas Oil Tractor Pull Results
Modified Tractors
1. Wayne Longnecker, Cambridge, Iowa – 318.38 feet; 2. Scott Bracken, Pleasant Hill, Mo. 290.26 feet.
9500 Limited Pro Stock Tractors
1. Steve Bousema, Worthington, Minn. 323.42 feet; 2. Mike Bousema, Worthington, Minn. 322.04; 3. Doug Ruth, Downing, Mo. 320.94; 4. Alex Kier, Rea, Mo. 320.34; 5. Connie Mullenix, Unionville, Mo. 314.10; 6. Dustin Ruth, Downing, Mo. 311.02; 7. Pat Mosley, Browning, Mo. 297.98; 8. Richard Warren, Stotts City, Mo. 296.52; 9. Chris Waegele, Graham, Mo. 264.50.
Semi Modified Two-Wheel Drives
1. Marty Nies, Berryville, Ark. 327.98; 2. Martin Nies, Berryville, Ark. 315.44; 3. Michael Merchant, Dewey, Okla. 225.66; 4. Michael Merchant (2), Dewey, Okla. 153.98.
Limited Pro Stock Diesel Trucks
1. Jason Hill, Platte City, Mo. 311.28 feet; 2. Jim Greenway, Nixa, Mo. 307.04; 3. Cole Matthews, St. Joseph, Mo. 306.72; 4. Jason Wayman, Kirksville, Mo. 304.32; 5. Troy Wakeman, Lone Jack, Mo. 303.04; 6. Josh O'Connor, Greenwood, Mo. 299.96; 7. John Holland, Girard, Kan. 3.68.