Welcome everyone to the 112th Inter-State Fair and Rodeo! Thank you for joining us for what we think will be the best one yet!
We have an awesome grand stand lineup slated for the week starting with a gasoline show on Tuesday night, followed by the LJ Jenkins Bull riding, two nights of PRCA rodeo and the grand finale, demolition derby on Saturday night.
During the day, don't forget about all of the activities going on over in the livestock arena. Make sure you go over and see all of the hard work that the kids have done all year culminate in the show ring!
Satisfy your sweet tooth Monday night at the bake sale in the Coffeyville Recreation building and while you're there, check out all of the projects that the 4-H and FFA kids have worked so hard on all year.
Also, be on the lookout for the Ranch Rodeo coming up in October during Dalton Defenders weekend, as well as other events throughout the year. The fair association has been producing stand-alone events, such as a Kansas High School Rodeo and Figure 8 racing during the year to increase community involvement, so we hope to see you along the way!
The association has worked hard all year to put these events together for our community and I would like to thank them for all of the time that they have dedicated. Without each and every one of them, this would not be possible.
Thank you and we hope you enjoy your time at the fair!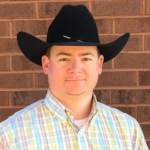 Luke Carr
2019 President