Brazilian bull rider is champion of 2018 Inter-State Fair's bull riding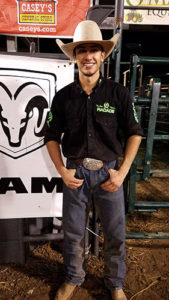 A Brazilian cowboy won the bull riding at the Inter-State Fair in Coffeyville on August 15.
Joao Agusto scored 84.5 points on his first ride, then 85 points on his second ride to be the only cowboy among the 28 bull riders to cover both bulls, and thus win the event. Each rider at the night's LJ Jenkins bull riding got to ride two bulls; in the first round, six riders made qualified rides. In the second round, three made qualified rides, and Agusto was the only man to have a score on both rides (169.5 points on two head).
Agusto, from San Paulo, rode bulls in Brazil in the PBR (Pro Bull Riders) before coming to the U.S. two months ago. He's living in Decatur, Texas, and has been doing well in the U.S., winning six events since coming north. The bull riding in Coffeyville is not a PBR sanctioned event, but Agusto also competes in the PBR's Velocity Tour.
Bull riding is his passion, and it's more fun in the U.S. than at home, Agusto said. In the U.S., people seem to like it more and cheer more than fans do in Brazil.
And moving to a new country hasn't slowed him down. He's made new friends, is learning English, and is excited to boost his career in the U.S., where there are more and bigger opportunities for bull riding.
Sponsors for the LJ Jenkins bull riding are Savage Services and Equity Bank.
Pro rodeo is the main event for the next two nights of Inter-State Fair. Nearly 200 cowboys and cowgirls will compete August 16-17. Tickets range in price from $15 to $30 and are available at the gate and online at FairandRodeo.com. For a complete fair schedule, visit the website (FairandRodeo.com).
Bull Riding Results
First round
Joao Augusto, 84.5 points
Ryder May, 84;
Kolt Forinash, 83;
Ty Clearwater, 82.5
Caleb McCaslin 81;
Eduardo Oliveria, 65.
Second round
Joao Augusto, 85 points;
Jake Gowdy, 84.5;
Kyle Zeigler, 82.75.
Average (highest score on two head)
Joao Augusto, 169.5 points on two head; no other qualified rides.