One Day Fun Pass Sale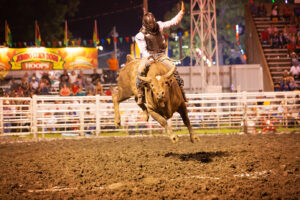 Coffeyville, Kan.  (June 1, 2019)  – For one day, fans of the Inter-State Fair and Rodeo can buy their fun pass at a low, low rate.
From 12:01 am to 11:59 pm on June 7, Fun Passes for the Inter-State Fair and Rodeo in Coffeyville can be purchased online for $25.
Fun Passes admit the bearer to each night of the five nights of grandstand entertainment at the 111th annual event, which will be August 13-17.
The Fun Pass is a way for the Montgomery Co. Fair Association to keep the fair and rodeo affordable for families, said Luke Carr, president of the association. "We want to make sure parents and kids can attend the fair, and this is a chance for them to come to several nights of entertainment for a low price." He pointed out that the cost of the Fun pass is reasonably priced. "It works out to about five dollars a night," Carr said. "You can't go to the movies or any other kind of entertainment for that price."
On June 8, the Fun Pass ticket price goes to $35, and on August 1, the price goes up to $45. A fee assessed by the ticketing company is added to the price of each Fun Pass.
Fun passes are available online at www.fairandrodeo.com and through Junior Advisory Board (JAB) members. A portion of ticket sales is donated to the JAB scholarship fund. 
This year's fair and rodeo includes the Outlaw Tractor Pull on August 13, the LJ Jenkins Bull Riding on August 14, two nights of PRCA rodeo August 15-16, and the demo derby on August 17.
Fans can purchase the Fun Pass online at www.fairandrodeo.com. For more information, visit the website or call the Coffeyville Chamber of Commerce at 620.251.2550.