POULTRY SHOW HELD AT INTER-STATE FAIR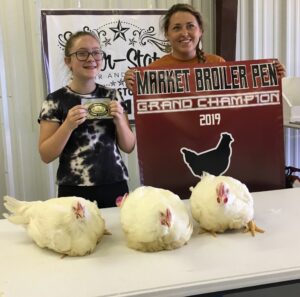 COFFEYVILLE, KANS. (August 14, 2019) – The inaugural show of market broilers at the Inter-State Fair in Coffeyville took place with nine entries, and grand champion went to Halle Hayes, Coffeyville, Kan.
Hayes, a twelve-year-old, decided to raise and show market broiler chickens after the deadline to order them, so she chose her six chickens from the extras.
She also shows pigs and rabbits, and last year, one of her pigs made the junior market livestock sale. This year, her pigs, a gilt and two barrows, did not, so the market broilers, which will be sold during the sale for the first time, will replace the money she would have earned. That money will go into her pig show account.
Even though chickens might be smaller, easier to raise and less trouble, they still weren't her favorite. Swine is at the top of her list, and even though pigs have a reputation for their odor, it was the chickens that Hayes could smell when she walked into her barn. "You didn't smell the pigs, you smelled the chickens," she said. "They smell really bad, worse than pigs."
She will be a seventh grade student at Roosevelt Middle School this fall, where she is excited to start ag classes and will play saxophone in the band. Last year, in sixth grade, Hayes was an "ambassador" at her school, assisting other teachers and the office in her free time.
She did not name her chickens, but her mom grew fond of them. "She really enjoyed having them," Hayes said. "She nicknamed them 'the gals.'"
When she grows up, she'd like to be a history professor and a judge for rabbit shows.
She is the daughter of Todd and Lisa Hayes.
Reserve grand champion for the market broilers was Khane McFall of Coffeyville.
Market broilers are chickens raised specifically for eating, and are usually ready to process in six to eight weeks. The market broiler contest was added to the Inter-State Fair this year to give youth an affordable and quicker option for raising and showing animals.
In the poultry show, Emory McAffrey won reserve grand champion of show with her bantam.
The chicken was special to her; it had belonged to a sixteen-year-old girl who passed away last year, and McAffrey was given the animal to show.
It was the first year for the fourteen-year-old to show chickens. She will be an eighth grade student in Vinita this fall.
She is from Welch, Okla. and is the daughter of Chad and Kim McAffrey.
Sponsor of the poultry show is Treasures and Trinkets and KB Farms. Sponsor of the market broiler show is Main Street Tire & Auto in Caney. The judge of the show was Dewight Maddison.
Results, Poultry Show – Inter-State Fair, Coffeyville, Kan. 
 Market Broilers Pen of 3
Grand Champion: Halle Hayes, Coffeyville
Reserve Grand Champion: Khane McFall, Coffeyville
Grand Champion of Show: Bantum and Creole Old English Hen, KB Farms, Coffeyville
Reserve Grand Champion of Show, Best Bantum and Partridge Wyandotte: Emory McAffrey, Welch, Okla.