Kansas circuit cowboy wins bareback riding, Oklahoma man gets support of family as he rides bulls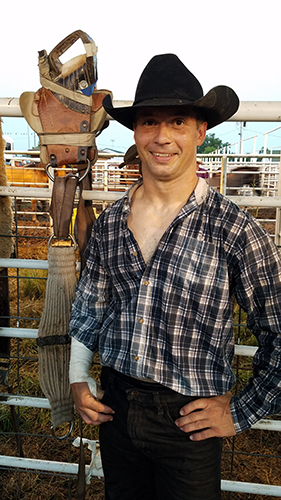 A Kansas cowboy took home the bareback riding title for the 2018 Inter-State Fair.
 Veteran bareback rider Jared Keylon, Uniontown, Kan., scored 82.5 points on the New Frontier Rodeo horse Full House to win the championship.
 It was a rematch from more than a decade ago; early in Keylon's career, he and the horse met up at a rodeo in Kearney, Neb., where he won the rodeo with a score of 84 points on Full House. The horse, a sorrel gelding who is more than twenty years old, is a good one, Keylon said. "That horse has been good for a long time. She's perfect. You can't ask for anything better than that."
 Keylon, who is 33 years old, has been competing in the PRCA ranks since 2006. Early in his career, rodeo was his fulltime job, and he qualified for the Wrangler National Finals Rodeo, pro rodeo's super bowl, in 2012. 
 But competition now takes a back seat to a wife, Ashley, two children (son Gunner, who is seven, and daughter Sadie Belle, age one), and a full time job. Keylon chooses to rodeo in the Prairie Circuit, pro rodeo's regional designation of rodeos in Kansas, Nebraska and Oklahoma, and be closer to home. "I've been working a lot, and circuit rodeoing a lot, so I can stay home with my wife and watch the kids grow up. That's been my main focus these days, rather than trying to make the (Wrangler) NFR."
 Staying closer to home doesn't mean he's less competitive. He's ranked third in the Prairie Circuit standings, behind the number two man, Blaine Kaufman, who is also his traveling partner, and the number one man, Steven Dent, who has qualified for the WNFR eight times. Competition in the bareback riding is tough in the Prairie Circuit, thanks to these three men, and Keylon prefers it that way. "I've always said, if I'm going to get beat, I want to get beat by a ninety (point ride), rather than a seventy (point ride), and by two guys I have a lot of respect for."
 He and Kaufman will be busy over the next few weeks. They compete in Altus and Vinita, Okla. next week, along with Hastings, Neb. The rodeo season ends September 30, with the Prairie Circuit Finals Rodeo in Duncan, Okla., in October.
 Keylon has qualified for every Prairie Circuit Finals Rodeo since 2006, except for two years ago, when he took a break from rodeo for fourteen months. He won the Inter-State Rodeo in 2011.
 In the bull riding, a rookie won his event.
 Kole Bowman, Barnsdall, Okla., scored 86 points on the New Frontier Rodeo bull Black Lightning to win the title by one point over the second place man, Shawn Bennett.
 Like Keylon, Bowman is rodeoing in the Prairie Circuit, and is ranked eighth in the standings. His win will help cement him in the top twelve who qualify for the Circuit Finals.
 The twenty-three-year-old cowboy who is in his first year of pro rodeo competition, comes from a rodeo family, including his dad, who was a tie-down roper. They support him, and that helps. "They kick me in the butt when I need it, and they give me a high five when I need it," he said. "I have a lot of support, and that makes it that much sweeter." His dad was behind the chutes with him, pulling his rope before he rode.
 This was the second year for Bowman to compete at the Inter-State Rodeo; last year, he finished in fifth place. He is the son of Kenny Wayne and Gail Bowman.
 Other champions crowned include steer wrestler Jake Johnson, Mapleton, Kansas (5.0 seconds); tie-down roper Mason Carter, Checotah, Okla. (9.1 seconds); saddle bronc rider Shade Etbauer, Goodwell, Okla. (85 points); team ropers Paul David Tierney, Oklahoma City, Okla. and Tanner Braden, Dewey, Okla. (4.6 seconds); steer roper J.P. Wickett, Sallisaw, Okla. (26.6 seconds on two head); and barrel racer Kylie Weast, Comanche, Okla. 17.97 seconds.
 Inter-State Fair Royalty was crowned during the rodeo on August 17.
 Winning the title of Little Miss was Lilly Kuehn, the six-year-old daughter of Derrick and Kristen Kuehn of South Coffeyville, Kansas.
 Emma Couch was crowned  Inter-State Fair Princess. Couch, the daughter of B.J. Couch and Chris Couch, is eleven years old and lives in Nowata, Okla.
 The 2019 Inter-State Fair and Rodeo Queen is Courtney Strickler. The daughter of Troy Strickler, she is seventeen years old, is a senior at Caney High School and a resident of Caney, Kan.
 The dates for the 2019 Inter-State Fair and Rodeo are tentatively set for August 12-16. For complete results from all fair activities, visit the website at FairandRodeo.com.