Sale, care for injured high school exhibitor are proof that community takes care of its own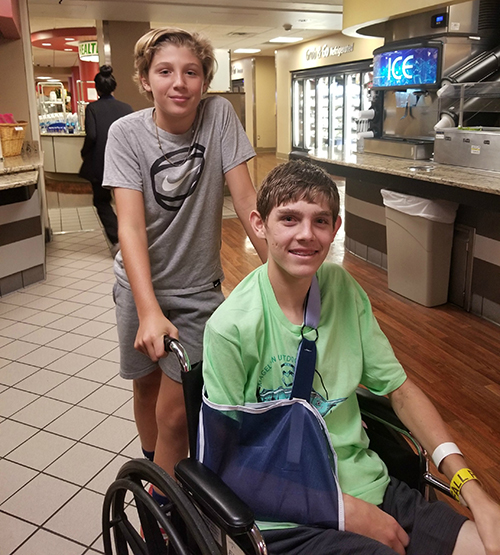 The junior market livestock sale wrapped up at the Inter-State Fair and Rodeo in Coffeyville on August 17 with 110 animals going through the sale ring.
 Grand champion market steer was shown by McKenna Little, Wann, Okla., and sold for $4750. The grand champion market barrow was shown by Sawyer Richardson, Vinita, Okla., and brought $800.
 The grand champion lamb was shown by Makenzie Floyd, of Miami, Okla., and brought $1100. Grand champion market meat goat was shown by Daniel Moody, Nowata, Okla., and sold for $1200.
 Although Jack Hill's goat did not qualify for the sale, the Delaware, Okla. boy is glad to be at the Inter-State Fair.
 After a serious car crash on June 28, he was at the Inter-State Fair, not able to show his goat, but able to spend time among friends and family.
 Hill, age sixteen, was driving home from feeding goats at his aunt's house when he hit a bump on a gravel road, overcorrected, and flipped the car. He was pinned beneath it, half-in and half-out of the vehicle.
 Neighbors saw the accident happen and worked to get the car off of him while the ambulance was on its way.
 Hill had nine broken ribs, a broken collarbone, a broken pelvis, and two collapsed lungs. When his mother, Shara Hill, arrived on the scene, she was not allowed to see her boy. "They pushed me back and told me I didn't want to see my child like that for the last time," she remembers. The outlook wasn't good. "They told us, he wouldn't make (the trip on) life flight," to Tulsa, and she was told he wouldn't make it through the first night of hospitalization.
 But he did, and he remained in an induced coma for ten days, to keep him still. Doctors put a plate and screws in his pelvis, and steadily, he got better. Jack spent three weeks in the hospital.
 He was home by mid-July, in a wheelchair, to let the pelvis heal.
 He wanted to come to the Inter-State Fair and show his goat, but he didn't have the strength.
 So his younger brother, Kaide, showed Jack's goat.
 The community has pulled together to help Shara and her sons. They've done fundraisers, and three steers were donated and auctioned off at the Coffeyville Stockyards. A friend put together a Facebook page: "Prayers for Jack," initially for close friends and relatives, but it's grown to over 2,000 fans. People Shara doesn't know will stop her and say, "I'm on the Prayers for Jack page and we want you to know we're praying for you." "It's amazing," Shara said. "It's really awesome to see."
 The accident has changed the family's outlook on life, Shara said. "We've had a lot of struggles, and I've questioned, is God on our side?" she said. "After this whole thing, it's obvious He's on our side. He had our back through this whole thing."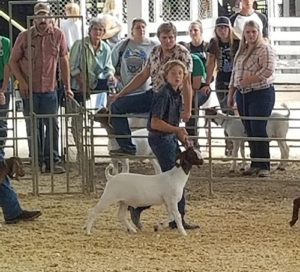 Jack was at the livestock shows, soaking up the atmosphere and laughing and joking with his friends. He'll be in the wheelchair for another week or so, then will use a walker to begin walking again. Because of nerve damage in his shoulder, his right hand is weak and doesn't work well; it's a brachial plexus injury that will heal slowly, Shara said.
And Kaide was happy to show his brother's goat. "I was nervous at first," he said. "I had never shown a goat and I wasn't that good at it. But he (Jack) forced me into it," he laughed.  Kaide also showed a sheep during the fair.
The livestock sale at the Inter-State Fair is evidence that the community gets behind their youth, and Jack Hill is also proof. "Friends pull together, and it's absolutely amazing," Shara said.
Prior to the livestock sale, five youth were awarded scholarships courtesy of the Junior Advisory Board (JAB).  Dalton Flatt, Cherryvale High School, Madison Gilman, Welch High School, Lane Kabrey, Chetopa High School, Caleb Mackie, Labette County High School, and Mackenzie White, Field Kindley High School, all received scholarships. This is the third year the JAB has awarded scholarships, and in the three years the JAB has been in existence, the total amount awarded is $4750.
Next year's 111th  annual Inter-State Fair is tentatively set for August 12-17. More information can be found on the website at FairandRodeo.com or by calling the Coffeyville Chamber of Commerce at 620-251.2550.
Of the 110 sale animals, there were 27 steers, 34 hogs, 25 sheep and 24 goats.