A HIT PARADE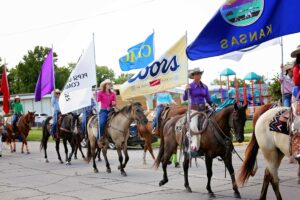 Coffeyville, Kan.  (August 12, 2019)  – For safety reasons, the parade route for the 111th  annual Inter-State Fair and Rodeo in Coffeyville has changed.
So that parade participants don't have to cross busy streets, this year's parade, slated for Thursday, August 15, will start at Eighth and Spruce.
It will continue east on Eighth to Walnut Street then go a block south on Walnut to Ninth Street. From there, it goes west on Ninth Street to Willow Street.  At Ninth and Willow, it disbands.
The fair and rodeo parade will follow the same route as the Christmas parade, said Miranda Rine, chairman of the parade for the Montgomery Co. Fair Association.
Rine, a past flag carrier in the parade and a long-time Inter-State Fair attendee, hopes to increase entries for this year's parade.
New this year are the traveling trophies and three categories for parade entrants. Traveling trophies will be awarded to first place finishers in each of three categories: equine (including carriages), commercial, and non-profit. Second place finishers in each category will receive a certificate.
Rine, a resident of South Coffeyville, is 23 years old and figures she hasn't missed a year of the fair and rodeo. She tries to attend each night of grandstand entertainment, but has two favorites: the bull riding and the demo derby. "They're pretty action-packed," she said.
Parade entries are due August 9. Entry forms can be found online at www.fairandrodeo.com (click on the attractions button.)
This year's Inter-State Fair and Rodeo runs August 13-17 and includes grandstand entertainment each night plus activities throughout the day.
For more information, visit the website or call the Coffeyville Chamber of Commerce at 620.251.2550.