RODEO FUNNIES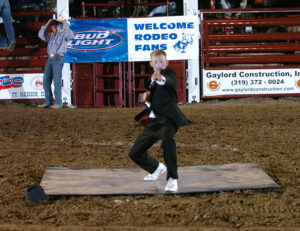 Coffeyville, Kan.  (August 5, 2019)  – Fans at the Inter-State Rodeo are in for a treat August 15-16.
That's when rodeo clown Allan Dessel will roll into town with his own brand of comedy.
Dessel, who lives near Cherokee, Iowa, will entertain with his quick wit and fun acts, like the Dance Evolution, featuring ninety years of dance, the hits from the 1950s through the 2000s, and his cop act, where he pokes gentle fun at the men and women in blue.
Dessel got his start in rodeo as a teenager, helping with local rodeos behind the scenes. One day, during a practice bull riding session, he was asked to be the bullfighter, since the man hired didn't show up. He enjoyed a bullfighting career for about eight years, before switching to rodeo clown. As he got older, the bullfighting phased out and the rodeo clowning took over. "As you get older you realize you can make more money being funny and you don't have to take the beatings," he said.
He worked his first rodeo as a clown in 2007, and loves it. "My favorite part of rodeo is just having fun," he said. "I'm the kind of guy who, it doesn't matter what I'm doing or where I'm at, I enjoy life. If me and the announcer can enjoy life in front of a rodeo crowd, they'll enjoy it, too."
He and his wife, Amanda, have three kids: a daughter, Gracie, who is nine years old, and sons Stran, age six, and Trig, age three. He loves spending time with his family. "A lot of people our age spend their time trying to get rid of their kids. We spend most of our time trying to hang out with them," Dessel said. The family loves to fish, play in the creek, and swim, eating at the local ice cream stand next to the pool.
He's starting a cow herd, has some goats for the kids, and he and his mom operate a business company, doing taxes, bookkeeping and payroll. Dessel got a college degree in physics and a minor in math and education.
Dessel will entertain during each night of the Inter-State Rodeo in Coffeyville August 15-16. Rodeo tickets are $15 for general admission. Fun Passes, which admit the bearer to all five nights of grandstand entertainment, are $35 through July 31; on August 1, they are $45.