BULLISH ON BULL RIDING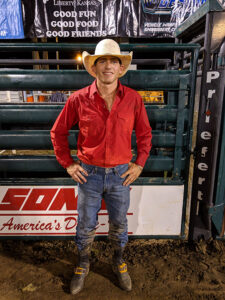 Coffeyville, Kan. (August 14, 2019) –  An Oklahoma man took home the cash at the LJ Jenkins Bull Riding in Coffeyville.
Zane Cook was one of two men, out of 28 riders, to ride both of his bulls.
His combined score of 173 points on two was 8.5 points better than Cody Rodeo Tyler, who had 164.5 points on two head.
Cook, from Ft. Gibson, Okla., scored 86 points on his first bull and 87 on his second. He had ridden both bulls last weekend.
The LJ Jenkins Bull Riding is not only a competition for the bull riders, but for the bulls as well. Stock contractors bring two bulls each, and also provide a bull rider who rides those bulls. Cook works with Sho Me Rodeo Co., based out of Buffalo, Mo. and owned by Joe Anderson.
So last weekend, Cook rode the same bulls at his events in Eldorado, Kan., and Cairo, Neb.
He's been riding since junior rodeos as a youngster, and at age sixteen, started riding at the amateur level.
In 2013, he started his career with the PBR, and has ridden nearly exclusively with them, qualifying for the PBR World Finals in 2016.
Now that he is 25 years old, he's switched his focus for a while. "I'm taking a break from the PBR," he said. He competed in Springdale, Ark. at a PBR event a few weeks ago, placing fourth, but is staying more with the amateur and pro rodeos. "Ever since I was eighteen, I've mostly done PBRs. I'm to where now I feel like I kind of want to have a year where I do what I want to do, and see how it's treated me, and it's treated me really good this year."
Cook is ranked third in the Amped Up Bull Riding tours in Missouri and in the top three at the LJ Jenkins Bull riding Tour, which includes the Coffeyville event.
He won $2,274.48 for his rides in Coffeyville, and he's got a spot for that cash. He's saving up to buy ground in Muskogee or Cherokee Counties in Oklahoma, for a ranch. He and his dad raise bucking bulls, taking them to bull team events. "I'm an entrepreneur, just trying to make money," he laughed.
He has an objective for every bull he gets on. "My goal is to stay on every bull, regardless of what they do or which direction they go."
Cook has competed at Coffeyville every year since 2016, when the LJ Jenkins Bull Riding began in Coffeyville. That year, he won the long-round with a score of 86 points.
Cody Rodeo Tyler, Wellston, Okla., finished in second place with $1053.
Pro rodeo is the main event for the next two nights of Inter-State Fair. Nearly 200 cowboys and cowgirls will compete August 15-16. Tickets are $15 and are available at the gate and online at www.FairandRodeo.com. For a complete fair schedule, visit the website .
Results, Bull Riding, Inter-State Fair and Rodeo August 14, 2019
First round
Joao Almeidan, Brazil 87.5 points on Roll the Dice
Zane Cook, Ft. Gibson, Okla. 86;
CreekYoung, Rogersville, Mo. 85.5;
(tie) Danilo Carlos, Brazil and Brady Sims, Holt, Mo. 85 each;
Short round
Zane Cook, Ft. Gibson, Okla. 87 points on Big Timber;
Cody Rodeo Tyler, Wellston, Okla. 86.5 points; no other qualified rides.
Average (highest score on two head)
Zane Cook, Ft. Gibson, Okla. 173 points on two head;
Cody Rodeo Tyler, Wellston, Okla. 164.5 points; no other qualified rides.