Oklahoma youngster loves goats, shows grand champ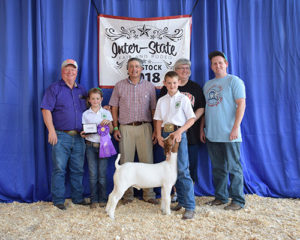 The grand champion for the goat show at the 2018 Inter-State Fair in Coffeyville went to Daniel Moody.
Moody, a ten-year-old boy from Nowata, Okla., showed an American Boer goat born in January and weighing 65 lbs.
Moody named the goat Pearl Harbor, after his favorite Pro Bull Riders bucking bull with the same name. He loves goats. "It's fun and I like to mess with them. They have personalities." Pearl Harbor's personality is "very calm," he said. He is a hard worker, his dad Nicholas said, often getting up in the morning before Nicholas, to start on chores with his goats. Daniel also helps out with the family's herd of goats.
A fifth grade student at Oklahoma Union School, he loves to read, especially the Magic Treehouse book series, which he estimates he's read most of them.
Daniel loves bull riding and has attended two PBR events. PBR world champion J.B. Mauney is his favorite bull rider, but he's never had the chance to get Mauney's autograph. He does have the autographs of two other famous bull riders, Derek Kolbaba and Ryan Dirteater.
When he grows up, he'd like to be an auctioneer or a bull rider. His goat will be sold during the junior market livestock sale on Friday, August 17; the money he earns from selling Pearl Harbor will go towards college expenses.
Daniel is the son of Nicholas and Katie Moody.
Sponsor of the goat show at the Inter-State Fair is the Labette Bank; sponsorship of the goat showmanship contest is Falkenstien Family Show Goats. Judge of the show was Shannon Scott, Nevada, Mo. Results of the show follow.
Market Meat Goat Show Results
Grand Champion Meat Goat:  Daniel Moody, Nowata, Okla.
Reserve Champion Meat Goat: Dillon McNickle, Mound Valley, Kan.
Grand Champion Commercial Doe: Emmie Moore, Nowata, Okla.
Reserve Champion Commercial Doe: Katie Leard, Ochelata, Okla.
Showmanship
Junior Showmanship
Charli Moore, Nowata, Okla.
Jaci Falkenstein, Bartlett, Kan.
Izzy Lewis, Bartlett, Kan.
Gracie Schertz, Chetopa, Kan.
Laramie Bruce, Caney, Kan.
Senior showmanship
Jagger Fox, Caney, Kan.
Andrea Blum, Copan, Okla.
Emmie Moore, Nowata, Okla.
Dakota Pease, Chetopa, Kan.
Dillon McNickle, Mound Valley, Kan.