Special people, special kids, enjoy time spent with pigs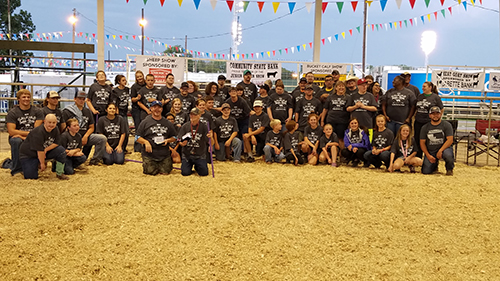 Some very special people got a special experience in Coffeyville on August 16.
The annual Buddy Barrow Show, part of the Inter-State Fair in Coffeyville, took place.
Youth from 4-H and FFA programs that had showed their barrow (a male pig that has been castrated), were paired up with people with special needs, to show the barrow as part of a showmanship contest.
About thirty special needs people participated, and a grand champion and reserve champion were determined.
Randy Lee won grand champion and Charles Landrum was reserve champion. Both men live in Independence and both have participated in the Buddy Barrow Show several times.
Lee was excited to win the buckle. He got third place several years ago, and was disappointed, his mother, Myra Lee, said. "Every year he says he's coming to get this buckle," she said. Lee, who is fifty years old, had lived on the family farm with his mother until last year, when he moved to the Class LTD home in Independence. "He misses the farm very much," Myra said. "He loves animals." The transition from the farm to his Independence home at Class LTD has been tough, but he comes home every weekend. "At 3:30 pm on Friday I'd better be at that house," Myra said, to bring him home for the weekend.
This is the ninth year for the Buddy Barrow Show, and Class LTD, who is also a sponsor of the event, has been bringing their clients to it from the beginning. It's something their clients love, said Gretchen Andrews, vice-president of services at Class LTD. "They look forward to this months in advance," she said. "Last year's reserve champion won a buckle and wears it every day. It's a major life event, and it's exciting to be part of something in the community that people get to see as positive."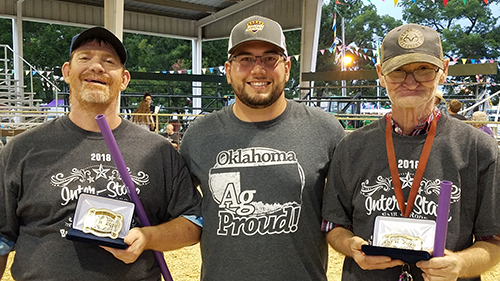 It's good for the mentors, too, the 4-H and FFA youth who help their partner show the pig. "It's good for the kids as well," Andrews said. "They get to learn patience, tolerance, and how to communicate with people who sometimes don't necessarily use words to do it."
Judge of the event was South Coffeyville High School FFA advisor Daniel Forsyth, who enjoyed seeing the youth participate. "It's a way for them, in 4-H or FFA, to make an impact." He notes that FFA advisors and 4-H leaders teach youth how to show their animals, then the youth are in the teaching position when they demonstrate to their partner how to show the pig.
Each participant received a t-shirt.